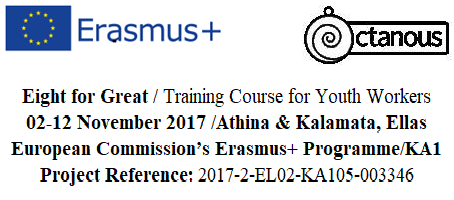 PARTNES:
Outward Bound Croatia (HR), Lakatamia Municipality (CY), Nooruse Maja (EE), Debrecen Summer School (HU), ComeUnaMarea (IT), Malta secondary school (LV), Ecological Tourism Association Camena (RO), Základná School (SK)
Aim:
The strategic aim of the EfG is to generate a convenient environment for three European initiatives, i.e. the Youth Guarantee scheme, the European Solidarity Corps and mainly the European Framework for the Key Competences for LLL. The foremost objective is to create an informal, yet functional, network of youth workers and youth professionals who will have been trained properly and made contacts under the framework of the project "EfG".
Forty-seven youth workers or youth professionals, coming from 9 different EU countries will be recruited by the project's colleagues to participate in a ten-day long workshop in Kalamata (7 days) and Athens (3 days). Participants will have the opportunity to develop knowledge on various youth work aspects as well as to get acquainted with the traditions and the national and European parliamentary institutions.
In this workshop, the participants will:
• Develop their communication and social skills
• Obtain competences for strategic design of youth initiatives following the requirements of the new European reality.
• Familiarize with the management of hosting youth groups, like youth exchanges.
• Determine, develop and solidify relations of multicultural collaboration in the youth field.
• Valorize the content and the meaning of the European Framework of the 8 Key Competences for LLL, the Youth
Guarantee scheme and the European Solidarity Corps.
• Learn how to apply the philosophy and aspirations of the three European initiatives in youth exchange projects.
• Engage themselves in the long-term promotion of the three initiatives mentioned above in their local communities.
• Improve their capacity to realize and assess practical creative workshops with predetermined outputs within exchange projects involving young participants.
• Become more familiar in completing a YouthPass certificate for the young participants of international exchange projects.
The participants will be functioning more efficiently as multipliers in favor of the three European Initiatives. It is expected that they will be able to contribute to the entry of the youth into to the voluntary field, labor or training market and they will promote mobility and youth exchange on a European level.
All participants will be granted a YouthPass certificate.
The working language is English. Venue:
The training course will take place from 02-12 November 2017 in Athens and Kalamata Messinias.